W.T.S.P
Welcome to "The What's The Scuttlebutt Podcast" Your Favorite WWII Based podcast.
Join us as we delve deep into the historical events, untold stories, and remarkable individuals that shaped one of the most significant conflicts in human history.
We'll bring you captivating interviews with veterans who bravely fought on the front lines, providing firsthand accounts of their experiences and insights into the realities of war. We also sit down with accomplished authors who have dedicated their careers to researching and chronicling the war, shedding light on lesser-known aspects and uncovering hidden narratives.
But it doesn't stop there. We go beyond the pages and screens to connect with the creative minds behind the captivating WWII movies that have left a lasting impact on audiences worldwide. From directors to producers and screenwriters, we offer exclusive conversations with the visionaries who bring history to life on the silver screen.
Furthermore, we invite reenactors who immerse themselves in the era, painstakingly recreating historical events, battles, and uniforms. Through their passion and dedication, they offer a unique perspective and a glimpse into what it was like to be on the ground during WWII.
"WTSPWWII" is your ticket to an immersive journey through the triumphs, sacrifices, and lessons of World War II. Whether you're a history enthusiast, a military buff, or simply curious about the human stories that emerged from this monumental conflict, our podcast is the ultimate destination. Join us as we honor the past, celebrate the heroes, and preserve the legacy of World War II for generations to come.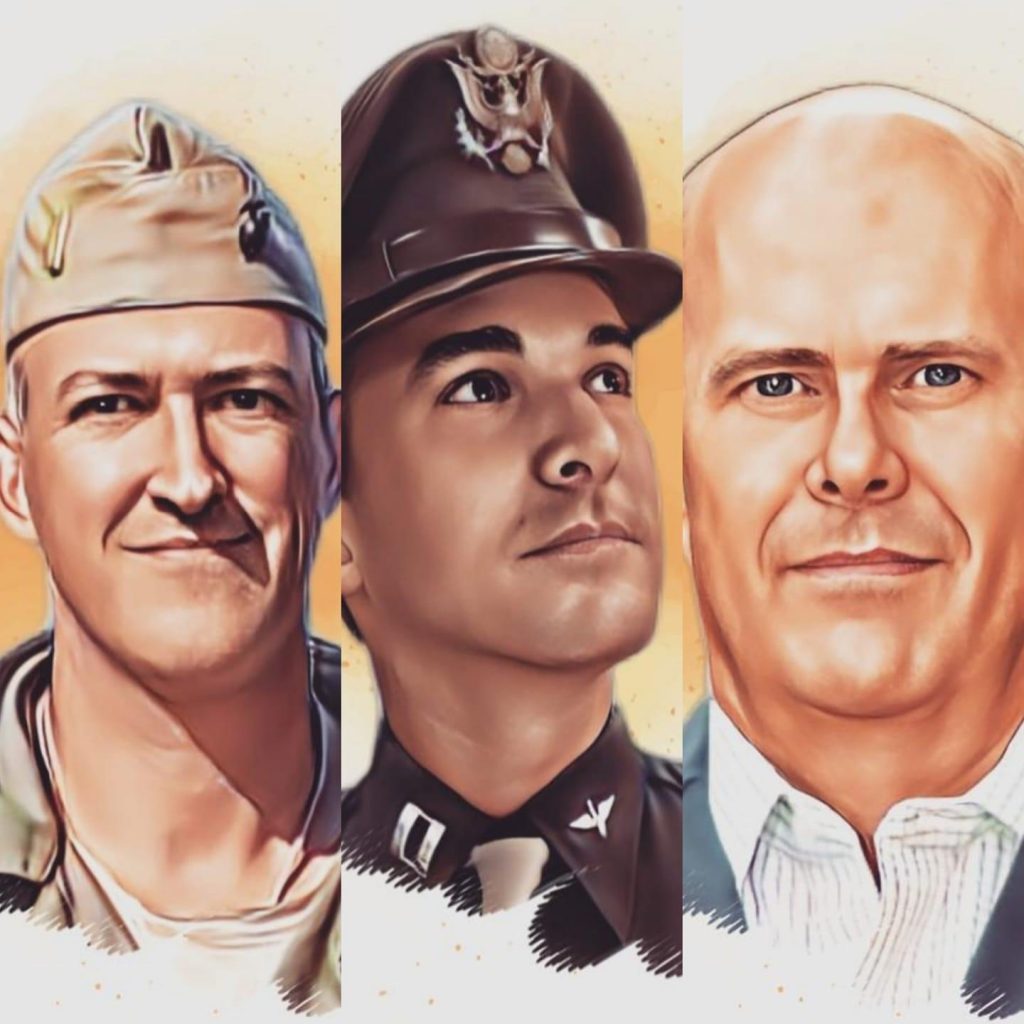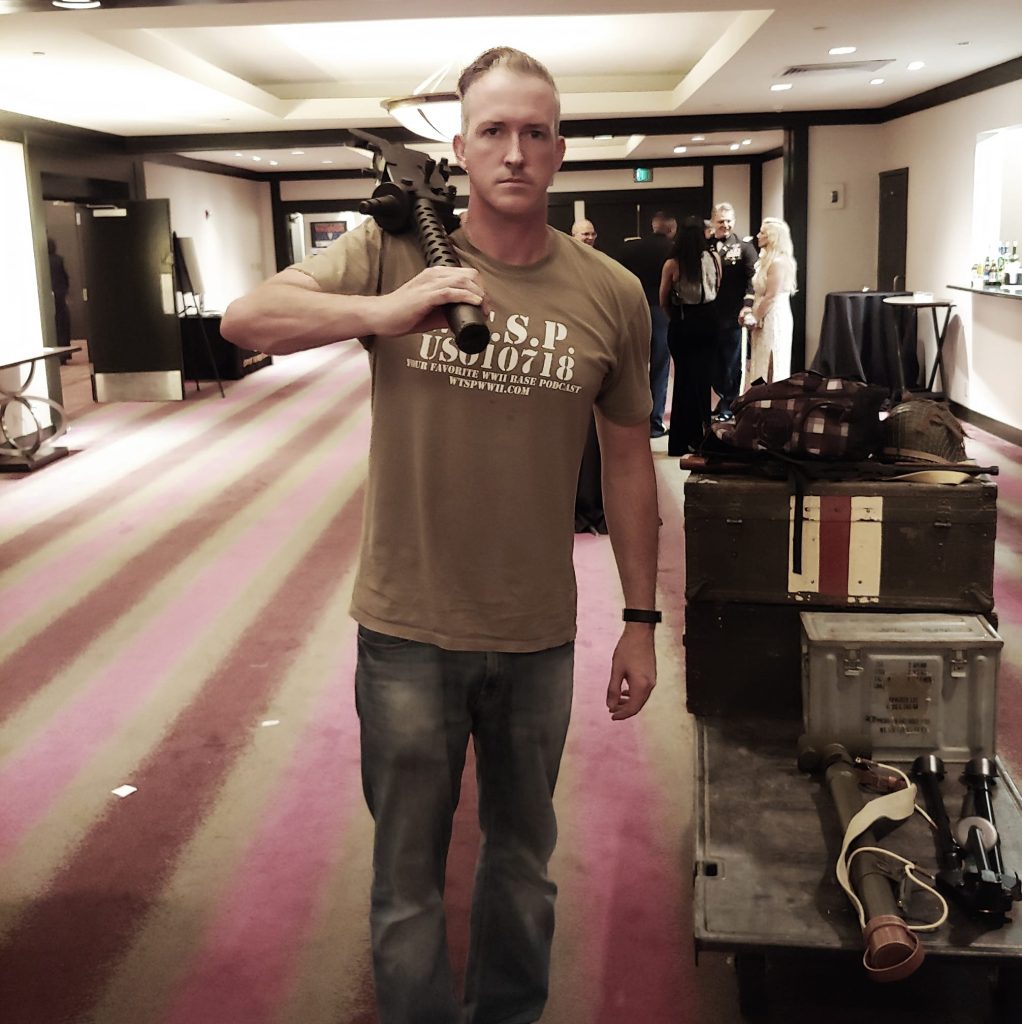 Don Abernathy
I moved to Ohio in second grade and completed my schooling and growing up in Columbus. In 2001 after working for a company for 3 years building ambulances I moved to Long Beach California.
Following my time in CA I moved to SW Florida in 2004
During some flights from California back to Ohio to visit family I picked up a copy of Brothers in Battle, Best of Friends. Reading more on tow of the men featured in Band Of Brothers not only flamed my love for reading but also the topic of World War Two.
In 2010 I purchased an M1 Helmet and after seeng how that one item encourage people to talk about the War I started building my impression and looking into Living History Events.
I attended my first Living History event in 2011 and breaking out my USMC Impression for the first time.
In 2013 I started officially working in Radio as an afternoon show producer and on air personality after managing the afternoon show's facebook page for 3 years.
It was my passion for WWII and love for Radio that gave me the idea to launch W.T.S.P in 2018.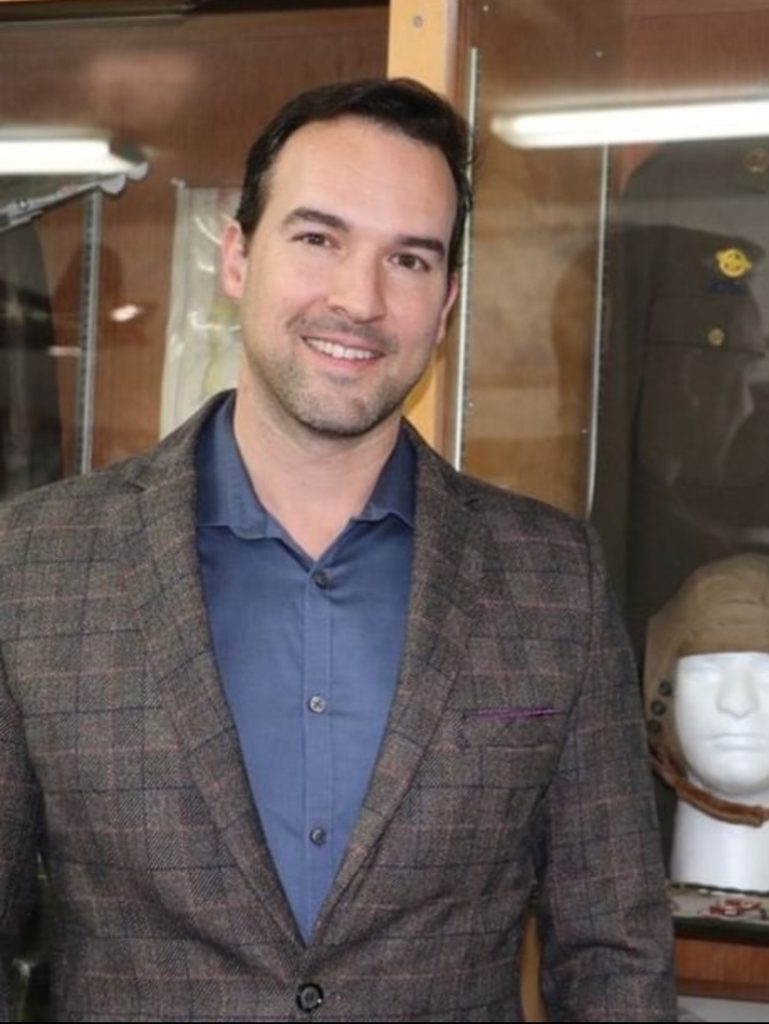 Jeff Copsetta

Although originally from New Jersey, I've called a small ranch in the Texas Hill Country home since 1999. Before graduating from Burnet High School in 2001, I enlisted in the United States Army as a 19D Cavalry Scout. I served from June 2001-June 2005 and deployed to Baghdad, Iraq from March 2004 through March 2005 with F Troop 9th Cavalry Regiment 3rd Brigade Reconnaissance Troop 1st Cavalry Division. While in Iraq, I was assigned to a PSD (Private Security Detachment) to our Brigade Commander and was a machine gunner on top of an M1114 HMMWV. I spent my 21st birthday there and was promoted to Sergeant. After returning from the war, I pursued a career with Texas Parks & Wildlife as a Park Ranger III and Wildlands Firefighter. After 9 years with the agency, I was offered the opportunity of a lifetime. Since World War II was such a big interest of mine from a very young age, being offered the position of Living History Director at the National Museum of the Pacific War was a dream come true! I came on board just in time to open the newly renovated Pacific Combat Zone, where we did live-action living history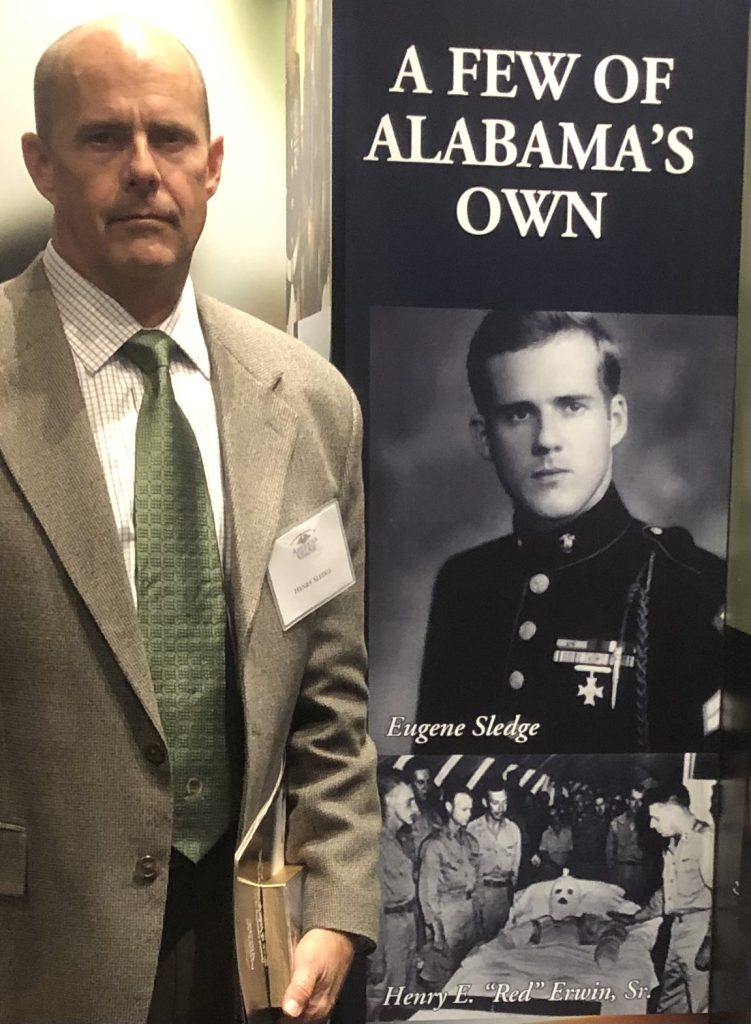 Henry Sledge
Growing up in Montevallo, AL, some of my earliest childhood memories are of seeing my dad sitting up late at night in front of the fireplace writing on yellow legal pads. I remember he seemed lost in thought, as if he were in a faraway place. He also kept a small brown bible close by with pieces of paper in it that he kept referring to. As I got older, I realized he was writing the manuscript for what would become his memoir of serving in the U.S. Marines in the Pacific during WW2. Peleliu, Okinawa, Snafu, Ack Ack, Hillbilly, Sledgehammer…those were words and names that became second nature to my brother and me through the years.
By the time I was a teenager, With The Old Breed was published and starting to make the rounds among historians and Marines, and I felt a keen interest in learning more about what happened out there so long ago, and maybe even going myself to see that tiny island out there on the fringes of the western Pacific with the lilting name that almost sounded exotic…Peleliu.
Fast forward to 1999 and my dad showed me a flyer one day promoting a 55th anniversary trip to Peleliu. I remember debating the merits of such a trip with my dad; the expense, time off from work, etc. Andrea, my girlfriend at the time, waved my concerns aside and declared flatly, "Henry, you have to go. It's part of who you are." I did, and that trip sparked in me a passion for WW2 history that lives on to this day.
I wish I could say that WW2 history is my occupation, but it isn't. I've had a couple of articles published, served as a historical consultant on WW2 Pacific artwork for Valor Studios, and been interviewed on camera many times, discussing my famous father – Eugene Sledge. I've been in the heavy equipment industry for the last 18 years. Call it my day job. I married Andrea, not long after that trip to Peleliu, and we make our home in Bluff Park, just outside of Birmingham. We have a 13-year-old son named Jack. I spend as much time with them as I can, and I read a lot of WW2 books. I enjoy music and riding mountain bikes with my son. I'm excited to join Don and Jeff as a co-host to discuss our shared passion for all things WW2.